LUXURY SKINCARE FROM THE ISLANDS
Nama Fiji skincare products have been sold in Luxury Five Star Hotels and Spas throughout Fiji for over 15 years.
Impact Model
Women harvesters spend up to 8 hours in the water, 3 days a week, hand picking the wild Nama "sea grapes". Nama regenerates rapidly (within 3 - 4 weeks) and harvesting the Nama does not negatively impact the ecosystem. The Nama harvesting program allows the Fijian women to earn an income, learn more here.

OUR MISSION To be a sustainable beauty brand that is building a socially responsible enterprise for our planet's future.
NAMA FIJI'S ETHOS It's not just about making world class products, equally important is caring for our community and sustainably using what mother nature has to offer. We're focused on improving the livelihood of rural women & communities in Fiji through training, employment and Nama harvesting in the Fijian villages of the Yasawa Islands. To us environmental and social responsibility isn't just a mission, it permeates every facet of what we do.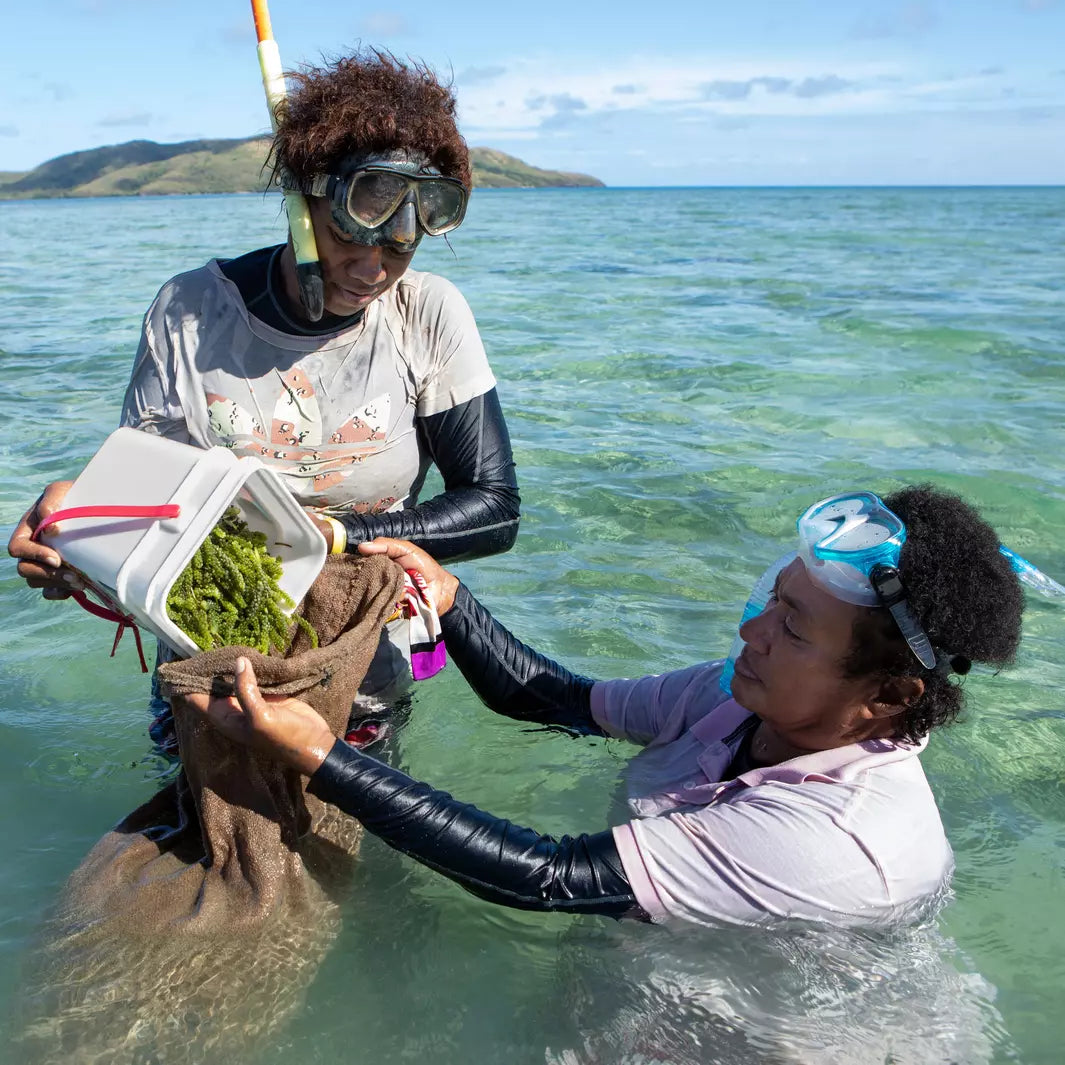 This section doesn't currently include any content. Add content to this section using the sidebar.
Our Philosophy
Our philosophy has always been to provide the simplest formulas, made with ingredients in their most natural state, to help achieve healthy skin.
Healthy skin is a representation of a healthy life.
Things like the sun, pollution, alcohol, and stress accelerate skin damage. Over time, we build up skin damage and the signs of aging become more visible. The key to maintaining more youthful looking skin is skin hydration because hydrated skin does not wrinkle as easily. The Nama Fiji product range was designed to provide lasting hydration and nutrition to all layers of the skin to promote a radiant, healthy complexion. I consulted with my dermatologist and had to go on Acutane (for a second time) for my acne, which is very drying. However, I've been only using Nama Fiji products - Cleansing Gel, Gel Serum, Face Cream - and I haven't had any dryness at all on my face! The Nama Fiji Gel Serum is one of my favorite products to calm and reduce inflammation, while it restores the hydration in the skin. All of the products smell so natural and fresh. My skin just soaks it up feeling moisturized, soft and supple.